St. Louis Antique Mall is an antique store composed of over 120 vendors and staff that are dedicated to vintage, antique and handcrafted items. We love the "old and the odd," and you never know what you might find.
The mall is minutes away from Highway 70 and 8 minutes from the airport - making it a destination antique store for travellers who are itching to find unusual gifts and treasures. Whether you need a vintage and operational spotlight, Civil War cannonballs, or Rainbow Brite collectibles, you're sure to find it.
St. Louis Antique Mall is open 11-7 during the week and 10-6 on the weekends, and is located at 9715 St. Charles Rock Rd.
As dedicated collectors, Chad and Stephanie Lane have visited and fallen in love with antique stores all over the St. Louis area. Here are a few of their other favorites:
This antique store is the midcentury mecca in St. Louis. Open Friday - Sunday 10-5, it is a haven of MCM, midcentury treasures of all types, as well as vintage "new old" stock by the bundles. Whether you "need" a rain lamp from the 60s, unopened posters from the 80s, or wicker and teak, it's in there.
The Green Shag is open 10-5 Friday - Sunday and is located at 5733 Manchester Ave.
This antique store is a bit of a drive, but definitely worth a visit. The owner, Eddie, has a talent for finding very large antique and vintage statues, signs, and other items that are difficult to find anywhere else. In addition, the mall features over 80 vendors and booths, and we've never left without at least one purchase.
Chesterfield Antique Mall is open 10-6 all week long and is located at 16635 Old Chesterfield Rd.
This antique store located in Clayton near Highway 40 is full of antiques. Stop by, say "hi" to Brian the owner, and we dare you to try and leave without buying something amazing. There's always something to fall in love with in here. We've found Art Nouveau bronze, original art by well-known artists, and a variety of high end stuff - all begging to come home with us.
The Brass Alligator is open 11-6 Friday - Monday and is located at 6403 Clayton Rd.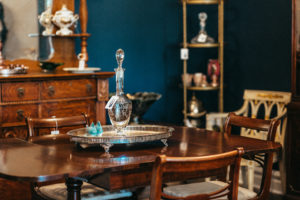 Two Chicks Vintage Marketplace
Located in Historic Downtown St. Charles, Two Chicks is a wonderful place to find your vintage blow mold decorations, farmhouse and vintage decor, and tremendous value for your antiquing dollar. The owners are always making buys and adding more stock, so it pays to stop by if you're driving down 70.
Two Chicks Vintage Marketplace is open 10-6 Friday - Sunday, 10-5 Monday, Tuesday and Thursday, and is located at 205 N Main St in St. Charles.
Take a Tour of the Antique Stores of St. Louis!
At St. Louis Antique Mall, we are believers in the St. Louis antiquing community. There are amazing finds to be had at each of these antique stores and several others, which we will feature in future posts.
The joy of finding and collecting things is universal and all-inclusive. Even if you are a non-collector (for now) you will find amazing gifts for your friends and family - gifts that are much more meaningful and longer-lasting than anything you'll find at a big box store - and you'll be supporting St. Louis small businesses and artisans while you shop.
We hope to see you soon - happy hunting!